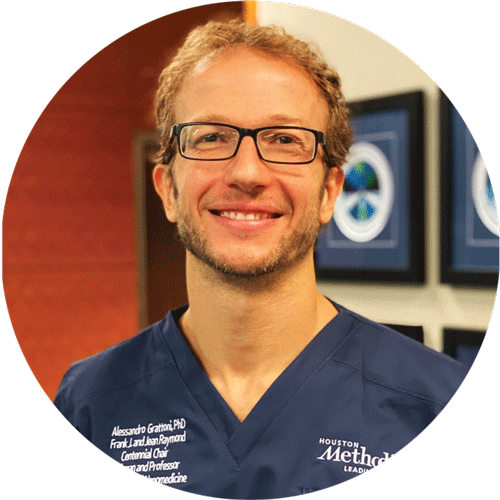 Appointments
Chairman and Professor | Department of Nanomedicine, Houston Methodist Research Institute
Frank J. and Jean Raymond Centennial Endowed Chair
Professor | Department of Surgery, Houston Methodist Research Institute
Professor | Department of Radiation Oncology, Houston Methodist Research Institute
Director | Center for Space Nanomedicine, Houston Methodist Research Institute
Director | Houston EnMed Capstone Project Program
Adjunct Professor | Tecnologico de Monterrey, School of Medicine and Health Sciences
Adjunct Professor | College of Medicine Texas A&M University
Editor in Chief | Biomedical Microdevices, Springer
Appointments
Chairman and Professor | Department of Nanomedicine, Houston Methodist Research Institute
Frank J. and Jean Raymond Centennial Endowed Chair
Professor | Department of Surgery, Houston Methodist Research Institute
Professor | Department of Radiation Oncology, Houston Methodist Research Institute
Director | Center for Space Nanomedicine, Houston Methodist Research Institute
Director | Houston EnMed Capstone Project Program
Adjunct Professor | Tecnologico de Monterrey, School of Medicine and Health Sciences
Adjunct Professor | College of Medicine Texas A&M University
Editor in Chief | Biomedical Microdevices, Springer
Biography
Alessandro Grattoni is Frank J. and Jean Raymond Centennial Chair and Professor of the Department of Nanomedicine. He received his Bachelor's and master's degrees in Mechanical Engineering in 2005 and PhD in Biomedical Engineering in 2009 from Politecnico di Torino, Turin, Italy.
Dr. Grattoni's research is dedicated development and clinical translation of implantable technology platforms for controlled long-acting drug delivery and cell transplantation. His research motivation is to improve the treatment and management of chronic diseases by combining advances in engineering, biology and medicine.
In his spare time, Alessandro is a triathlete who enjoys mountain biking, running and swimming. He loves competing in triathlons, where he has numerous podium placements in worldwide competitions. He also enjoys surfing.
Academic Training
2009-2010 The University of Texas Health Science Center at Houston Houston, TX, Postdoctoral Fellow. Advisor: Mauro Ferrari, PhD
2006-2009 Politecnico di Torino, Italy, Ph.D. in Biomedical Engineering
1999-2005 Politecnico di Torino, Italy, B.S. and M.S in Mechanical Engineering
Awards
2019 Compelling Result Award, ISS National Laboratory, ISSR&D 2019, Atlanta, GA.
2018 Award for Excellence in Peer Reviewed Publication, Houston Methodist Research Institute.
2016 Shelby Hodge Vision Award, World AIDS Day Luncheon, Houston, Texas, December 1st, 2016.
2015 Transformational Excellence Award, The Houston Methodist Research Institute
2014 Career Cornerstone Award. Houston Methodist Research Institute.
2014 President's Award for Excellence in Research. Houston Methodist Research Institute.
2013 President's Award for Transformational Excellence for Outstanding Academic Achievements. Houston Methodist Research Institute.
2009 Decoupling Diffusive Transport Phenomena in Microgravity. Microgravity Research Competition, The Heinlein Prize Trust, Space Exploration Technologies (SpaceX) and Rice Alliance.